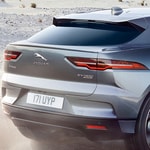 The all-new Jaguar I-Pace has finally been unveiled, and it is definitely a sight to behold. This electric SUV is sure to turn heads when it hits the road, thanks to its sleek and futuristic design. Let's take a closer look at some of the exterior features that make the I-Pace so special.

1. The I-Pace has a very streamlined look, thanks to its sleek body panels and aerodynamic design.

The I-Pace's exterior is certainly eye-catching, but it's not just for show. Jaguar has designed the I-Pace to be as aerodynamic as possible, which not only makes it more efficient but also helps to reduce noise levels.

2. The I-Pace is also very distinctive from other SUVs on the market thanks to its unique grille design.

While most SUVs have a traditional grille design, the I-Pace's grille is much more minimalist. This gives the I-Pace a very modern look, and it helps to improve airflow around the vehicle.